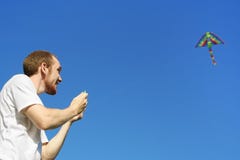 WELLFLEET, MA - Sources confirmed Saturday that the jackass who was at Duck Harbor Beach by himself flying a kite and getting in everyone's way tripped over an abandoned sandcastle, falling backwards.
"We were watching him and getting annoyed for a while, and he'd almost tripped over the sandcastle a bunch of times," beachgoer Susan DeMillis, who was vacationing with her family said. "He came so close so many times and we thought that he wasn't going to fall, but then all of a sudden -
bam!
He was down."
The kite-flyer - Bruce Coombs of Somerville - was also vacationing in the area at the time. Several bystanders indicated that he was "just sort of there by himself flying this kite" and had "absolutely no sense of personal space or respect for others in the area."
The sandcastle was reportedly built by a group of early-teens in the morning, and abandoned as the tide began to ascend.
Coombs sustained minimal injuries. The kite landed harmlessly in a nearby sand dune, interrupting what sources called up to 25 minutes of un-interrupted flight.