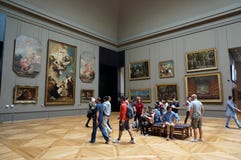 BOSTON - Northeastern University continued to expand is curricular offerings when it announced last week that it will offer courses on art theft.
Said Monica Young, Associate Dean of Arts & Sciences, "Northeastern is proud to continue to feature a robust and diverse selection of courses to better prepare today's students to leverage the growing talent gap in the region. This new focus on art heist is the latest example of our dedication to preparing the next generation of successful leaders."
This program is the first of its kind amongst Boston-area schools, and figures to suit a growing need among the employer community, where qualified "art-lifters" are a rarity.
"There is an expanding need within the business economy for candidates who are trained in the fields of Science, Technology, Engineering and Math, and now we can add art heist to that list," said Emmanuel Morris, Executive Director for the Massachusetts Labor Department. "We are thrilled to see that one of our local institutions is committed to prepare our region's youth for this burgeoning opportunity."
The course's pilot program will launch in September with various assaults made on Boston's Museum of Fine Art. With a collection of art valued in the hundreds of millions of dollars, students will have ample opportunity to grab a piece of the museum's portfolio.
"I don't know much anything about art," said sophomore Michael Brockenwelder. "We visited the museum in sixth grade but I mostly just fooled around with my friends. Now I really hope I can steal one of those paintings for my mom or sister."
He acknowledged with a smile, that an original Vermeer or Rembrandt wouldn't look bad in his dorm room either. "Right next to the Scarface poster."